You may have seen a backpack designed to carry dogs, but have you ever seen a bag designed for dogs to carry? Well, these hiking packs for dogs do exist, and they're called dog packs. Dog packs are a growing trend among pet owners who love to hike and travel, and while they may just seem like a clever way to have your pup pull their own weight, they're actually beneficial to both you and your pet in many more ways than that.
Today we're going to look at some of the best dog packs on the market. We'll also fill you in on how exactly these products work, how to use them safely, and why they make for great travel and hiking gear for pet owners. We hope you find that this list will not only point you to some awesome backpacks for your pup but that it helps inform you about what to look for when shopping for one on your own. Enjoy!
And if you're interested in all of the other quirky but useful dog products out there, be sure to check out the rest of our BarkSpot product lists!
What Is a Dog Backpack?
A dog backpack is essentially saddlebags for your pup. It's a harness that has a compartment on either side for you to store your doggy items, such as water, a collapsible water dish, toys, treats, poop bags, and whatever else your dog needs to bring along your journey. You can even use some space to store a few of your own items, like gloves or a warm hat. It can be the perfect day pack for traveling or an excellent backpack for hiking through trails that require a bit of preparedness.
It may seem like forced labor to make a dog carry around a backpack, but many dogs actually love to have a job, and their backpack can be that job while also helping to tow their favorite items and essentials around. The extra exercise they get by carrying the added weight can also help to calm even the most energetic breeds. And if your pup is too small to carry around their items in a backpack, you can always get a pet carrier backpack and bring them around with you!
Is It Safe to Carry a Dog in a Backpack?
You may be wondering whether or not pet carrier bags are safe for your pup. That's a fair question. There is a possibility that your dog may not enjoy riding in a carrier bag or that they might fall if the bag is not adequately secured. For the most part, however, pet carrier bags are pretty safe and are designed to avoid those sorts of hazards. They're rather roomy so that small dogs won't feel overly confined. They also fasten tightly and securely, meaning the odds of your pup escaping or falling are minimal.
While pet carrier bags are generally safe (and quite helpful!), it is crucial to gauge your own dog's reaction to being carried in one. If it causes them too much distress and they're often struggling to escape, then it may not be the best choice for you and your pet. They may not be in physical danger, but stress is dangerous in and of itself.
Owners of large dogs are likely more concerned about whether or not a dog backpack is safe for their pup to wear. In short, dog packs are totally safe. They have comfortable padded straps to keep the bags secure, and they lock onto your pup with a chest strap to prevent choking.
Provided you don't overload your dog's backpack and wind up causing them to strain themselves. You should have no problems with your dog pack. Just be conscientious of your pup's body weight and the weight of the bag. If you find that your dog struggles with the backpack, it's most likely time to lighten the load. 
Are Dog Backpacks Worth It?
Whether or not a dog pack or dog carrier is considered "worth it" is really in the eye of the beholder or the eye of the pet owner in this case. If you're a frequent traveler who loves to have your pup with them as much as possible, then you can absolutely benefit from one of these products. If you don't travel often, or your pup doesn't travel well, you might not get the use out of this product that would merit the cost.
Travel Anxiety Solutions
If you love to travel with your dog, but your dog doesn't travel well, there are some ways to help them with their anxiety. One of the most effective methods for soothing your pup's anxiety is through pheromone spray. Pheromones are chemicals that animals create and emit. These hormones alter the behavior of other animals in their species. 
Pheromone-based calming sprays use a non-toxic synthetic pheromone that can help destress them and soothe anxieties. If your pup becomes distressed during certain aspects of traveling, these products can be incredibly helpful and make the trip not only manageable but also enjoyable for your fur-end. Just always be sure to consult your veterinarian before giving your pup anything.
If you have a high-energy dog and want to see that they get as much exercise as possible, you should certainly consider a dog pack. The pack acts like a weighted training vest that can turn a regular walk with your pup into a serious workout. The result is that your crazy energetic pup will be much more mellow after a long day of satisfying exercise. That means your dog gets to relax, and so do you.
Dog backpacks are undoubtedly the most useful to hikers who love to bring their dogs along on the trail. It's not easy to lug around all your pup's things along with all of the things you need when you're out on a hike. A dog pack allows your pup to help carry their stuff while also providing them with a task to do, making them more focused and obedient. The extra exercise even helps tired your pup out. Some pups have seemingly endless amounts of energy that a normal hike can't get rid of. If your pup is carrying a dog backpack, there's an added level of "difficulty" to the workout.
The Benefits of Dog Backpacks for Hiking
You've heard a bit about how a dog pack can be useful to both you and your pup, but we've hardly covered all the great reasons why you should consider picking one up. While the benefits of dog backpacks extend to pretty much all dog owners, they are of particularly great use to dog-owning hikers. If you love to bring your dog along with you on long hikes, or even multi-day hikes, then take a look at the following incredible advantages of strapping your pup up with a dog pack before you hit the trail.
They Give Your Dog a Job
Despite how many humans tend to feel about having to work all the time, many dog breeds absolutely love having a job to do. From huskies and boxers to border collies and German shepherds and much more, it is in the DNA of certain pups to simply want to work.
In fact, studies show that dogs get more excited and less frustrated or upset when they earn a reward for completing a task (rather than getting a reward for no apparent reason). And giving them a daypack to bring along with them on your backpacking adventures can achieve exactly that. Make sure you provide them with treats along the way or at the summit!
What's more, if you're the owner of a high-energy, hard-to-tame dog who can drive you a bit nuts at times, you might be surprised to learn that giving them a job to do can help them calm down and behave much better. Simply placing a pack on their back (even if it's empty!) lets them know they're helping out, and that can totally change their behavior.
It's Great Exercise for Your Pup
Dogs need a ton of exercise to keep their energy levels normal and reduce the odds of misbehavior or destructiveness. However, certain dogs can play fetch, tug-of-war, walk a few miles, and even go with you on the run, and they'll still be feeling feisty. Sometimes there just isn't enough time in the day to get them the sort of workout they need. Well, giving them a hiking pack to wear during their exercise time can help them burn far more energy.
Having your dog carry a bag with them on a hike can put enough extra strain on them to burn off some of that excess energy in a reasonable amount of time. Hey, your pooch can even build some extra muscle from these little workouts! Just be sure not to overpack their bags and force them to carry too much weight.
Your Dog Will Get a Good Night's Rest
Some pups are still super hyper and ready to play after a long day of walking. Sound like your fur-end? With a new hiking pack strapped to them on their next nature walk, we're confident your dog will be burning off a little too much energy to continue the party once the hike is complete. They'll be just as tired as you and ready for a long, peaceful rest. You may even get to sleep in a little longer than usual instead of having to wake up for your pup's potty break at the crack of dawn.
It Will Give Your Dog Greater Focus
A dog with a task will almost always intently focus on the completion of that task. That means that your easily distracted pup may actually stay more locked in on your hike and make life easier for you as you traverse the trail. It may sound too good to be true, but it works! That's the power of giving your dog a job! 
You Won't Need to Carry as Much Yourself
Your hiking pack is already full of important items like sunblock and water bottles, so why bother stuffing it further with your dog's things when they can fit stuff in their doggy hiking bag? You can put your dog's treats, toys, water, poop bags, water dish, and more in their dog pack and let them get a great workout carrying (a reasonable amount of) weight on a nice long hike. As long as you don't overstuff the bag and overburden your pup, it's purely advantageous for everyone involved.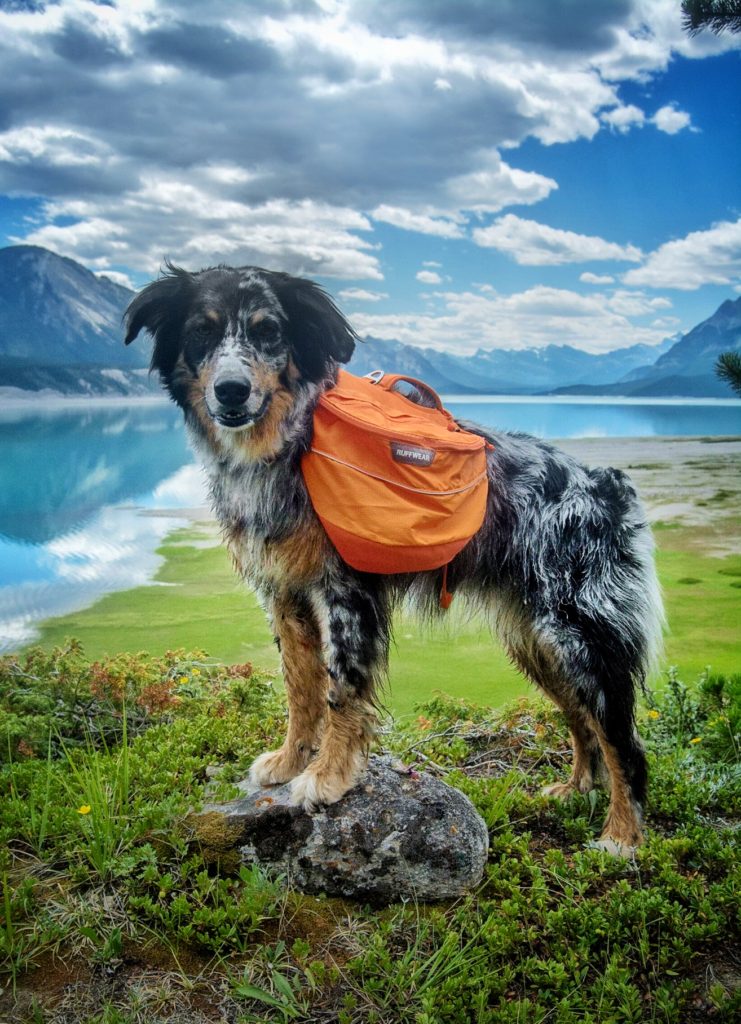 Ruffwear Approach Dog Backpack
The Ruffwear Approach Dog Backpack is a great-looking saddlebag-style dog pack that's made of lightweight materials and created with a streamlined design, making it extra comfortable for your pup to carry. It has two reasonably roomy stash bags and a few external gear loops so you can strap a collapsible bowl or any lightweight item that uses a carabiner on for the ride. This dog pack comes in four sizes, and the adjustable straps make the fit customizable. Thanks to those straps, you should have no problem getting the backpack securely and comfortably fastened to your pup.
One of our favorite features of this particular dog pack is its reflective trim. You and your pup must be visible when walking at night, and the simple but effective reflective trim does just that while maintaining a tasteful look. Between this feature and those spacious saddlebags, we're sure that the Ruffwear Approach Dog Backpack will have you and your pup ready for an unforgettable overnight hike.
Kurgo Baxter Dog Backpack
Kurgo is a fantastic company dedicated to making travel possible for dogs and more manageable for dog owners. Formed by two brothers who spent their younger days exploring the mountains and forests of their home state, Vermont, with their dog in tow, this company really knows what dog-owning hikers need in order to travel safely and comfortably with their pups.
The Kurgo Baxter Dog Backpack is an ergonomically designed dog pack with two roomy saddlebags that can help your pup carry their own weight while remaining comfortable. It has padded spine support with breathable mesh ventilation and eight adjustment points so you can find that perfect fit for your pooch. There's also a large padded handle that allows for easy control of your pup in unsafe situations. The pack is outfitted with reflective trim for higher visibility in low-light conditions.
This dog pack comes in two different sizes, one for dogs weighing between 30 and 85 pounds and one for dogs weighing between 50 and 110 pounds. The saddlebags in the standard size can hold 3.75L, while the "Big Baxter" size holds 7.5L. That means there's plenty of room in either one for toys, treats, water, waste bags, and more. Just be sure not to dispose of those poop bags on the trail. Remember一leave no trace!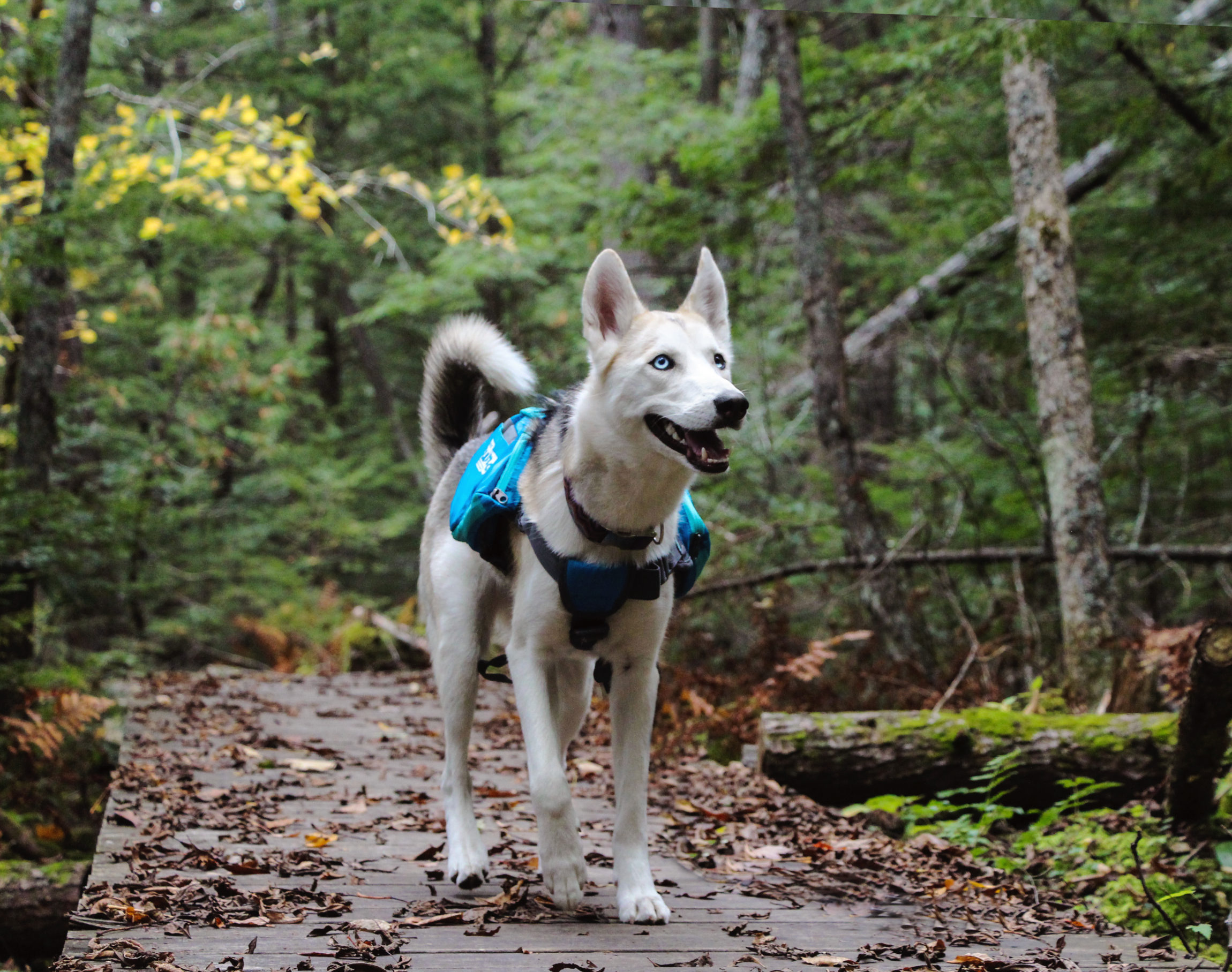 Outward Hound DayPak Dog Backpack
The Outward Hound DayPak Dog Backpack is another great doggy daypack equipped with spacious saddlebags that make transporting important items on your hike a whole lot easier. Two compartments on either side make for greater organization and even weight distribution, so you don't have to worry about your pup being uncomfortable on your day hikes. It's also lightweight, made of breathable mesh, and outfitted with adjustable straps to ensure maximum comfort and an optimal fit. This product comes in sizes designed for both small and large dogs.
One of the coolest features of this particular dog pack is that it's water-resistant. Should your hike include crossing a stream or swimming in a lake, you won't have to worry about the contents of your dog's backpack getting ruined. Remember, though, that "water-resistant" doesn't mean waterproof. Prolonged exposure to water will eventually spoil all of your pup's possessions. 
Lifeunion Dog Supply Backpack
Lifeunion creates products that service dogs often use, so you know that they have a high standard of quality and that any dog packs they might make will be tough, durable, and thoughtfully designed. Such is the case with their Service Dog Supply Backpack for camping, hiking, and training. It's made of high-quality polyester that is tough to tear and totally waterproof. It also has two removable saddlebags that have plenty of room for all the treats, toys, and other supplies you can possibly need for your outdoor excursion. When you remove those saddlebags, you've got a great dog harness.
The Lifeunion Dog Supply Backpack comes in three different sizes, so it's a great product for smaller dogs and bigger dogs alike. Just be sure to follow their sizing chart closely to maximize comfort and minimize the strains placed on your dog's back. And speaking of maximum comfort, this product consists of breathable mesh and cushy padding to ensure your dog's hike is just as enjoyable as yours. Adjustable straps also allow for a snug custom fit.

OneTigris Tactical Dog Backpack
OneTigris makes really great-looking tactical outdoor dog gear that has just as much function as it does form. Their Tactical Dog Backpack is made from super-tough 1000D nylon and outfitted with breathable mesh lining that allows for cool comfort even on super long hikes. It's equipped with two removable saddlebags that fit 3L and have exterior horizontal umbrella pockets so you can hang gear with Velcro straps or a carabiner.
The Tactical Dog Backpack is made with "Hook and Loop" belly straps with extra tough buckles that make for an excellent snug fit that can still allow your pup to stay comfortable and mobile. Zippers on the dog pack are made with a hidden design, so you won't catch any dog hair or cause any yelping when packing up your pup's saddlebags for a nice long hike. Pack your treats, toys, first aid kit, waste bags, and more, and be on your way. Just be sure to take your dog's measurements using OneTigris's measuring chart before placing your order, as a great fit is dependent on choosing the proper size.
Mountainsmith K-9 Dog Backpack
Mountainsmith is a Colorado-based hiking gear company that was one of the first-ever to offer a dog pack back in the 1980s. In other words, they've got some serious credentials when it comes to backpacks for dogs. To further those credentials, they worked with a local veterinarian to design their K-9 Dog Backpack to ensure that their design is ideal for maximum comfort, safety, and durability—or what they call "dog-onomically" correct.
The Mountainsmith K-9 Dog Backpack has two expandable saddlebags that include zipper accessory pockets for better organization. It also has a four-point adjustable harness with a belly strap, mesh panels, and breathable foam that allow for a snug yet comfortable fit. It's also water-resistant, so you don't have to worry about rain, rivers, streams, lakes, puddles, or any other moisture sources that your pup may run through. There are three different sizes to accommodate dogs of all kinds, so just check the chart before you order, and play with those adjustable straps a bit until the feel is perfect.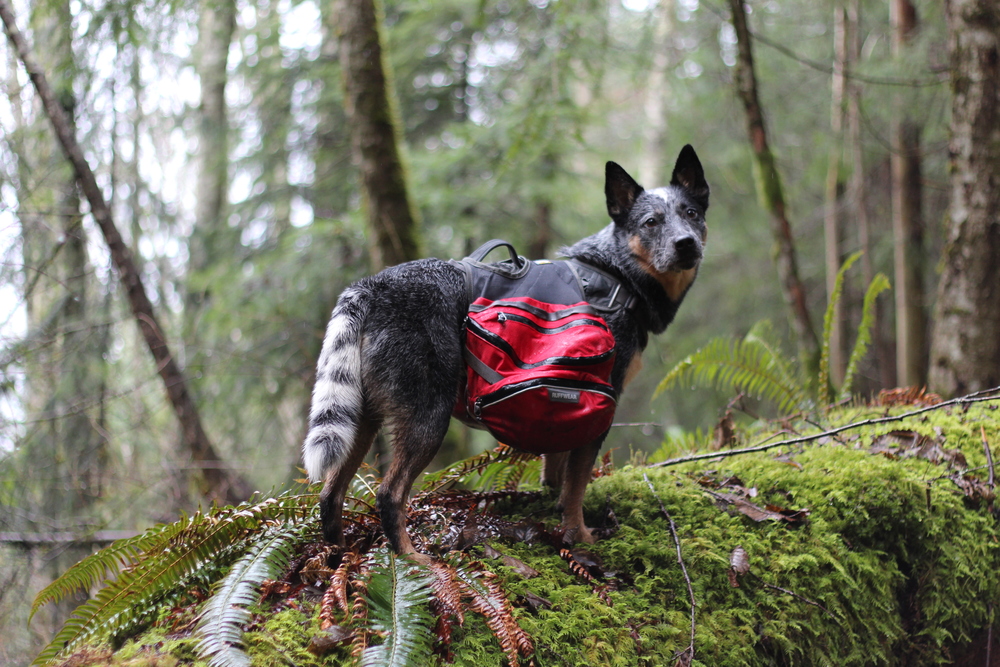 Ruffwear Palisades Dog Pack
Now, this is a real, hardcore dog pack. Suppose you're looking for multi-day hiking gear for your pup equipped with everything you need, capable of enduring the elements, and beautifully designed for comfort and safety. In that event, you should take a look at the Ruffwear Palisades Dog Pack.
This product comes equipped with two removable saddlebags, two collapsible water bladders, and a compression system specifically designed for stability and comfortable weight distribution. There's also a stash pocket and external loops for hanging gear, such as a collapsible water dish. The Ruffwear Palisades Dog Pack also offers extra safety with its light loop, and reflective trim provides greater visibility in low-light situations. With this pack strapped to your dog's back, you and your pup will be ready to take on all kinds of multi-day adventures in the great outdoors.
Lifeunion Saddle Bag
The Lifeunion is a really tough, high-quality dog hiking backpack that comes at an incredibly affordable price. If you require a nice daypack for your pup, and you're hoping not to break the bank getting it, this may be the product for you. It comes with two nice-sized, high-quality, durable polyester saddlebags that are totally waterproof. They'll keep you and your pup's things relatively safe.
The Lifeunion Saddle Bag comes in three different sizes and has adjustable straps, so you should be able to find the perfect fit for your pup, provided you use the sizing chart to make your purchase. Four reflective strips on the side pockets also offer more safety when those day hikes give way to evening strolls. Just be sure to bring along your pup's collapsible bowl because they're going to be quite thirsty by the time your hike is through!
Pawaboo Dog Backpack
Here's a bit of a curveball for you owners of small dogs. It may not always be feasible to strap your pup up with a dog pack, but that doesn't mean you don't want to bring them along with you on your next hike. Chances are your best friend wants to tag along, too, but the only problem is that smaller dogs can get quite tired on long treks. They may not be able to traverse the tougher, more challenging terrain. That's where the Pawaboo Dog Backpack comes in.
The Pawaboo Dog Backpack is a hands-free dog carrier that makes bringing your buddy along with you on your hiking adventures as easy as possible. You simply put your pup inside, fasten them in, buckle them up, and they're ready for the great outdoors. This product's legs and tail-out design ensures extra comfort, thick padding, and breathable material, making it a more enjoyable experience for you. Once you've given this product a try, we're confident you'll be adding it to your list of hiking gear essentials.
Wellver Saddle Bag
Much like the Lifeunion Saddle Bag, the Wellver Saddle Bag is an excellent product for those dog-owning hiking enthusiasts who aren't looking to blow their whole paycheck on hiking gear for their pup. It's a high-quality product that costs under $20. What more can you ask for?
Whether you're into short hikes in the nearby park or full-day hikes out in the wilderness, the Wellver Saddle Bag has what you're looking for in a dog pack. This product has adjustable straps and tough buckles, so small dogs and large dogs alike can find a perfect fit. The padded straps provide extra comfortability, and the breathable mesh lining will keep your dog cool no matter what the weather is like.
Summary
Those are our favorite picks for the best dog backpacks for travel and hiking. We're confident that you'll be wowed by any one of these fantastic products, but we encourage you to do a bit of your own research to find exactly what you're looking for in doggy hiking gear. Good luck! We hope you found this list helpful and that you got a good idea of exactly what makes a great dog pack from it.