Many dog owners will spare no expense in making sure that their pet is healthy, comfortable, and able to live the happiest life possible. That's why you see all kinds of interesting, innovative, and even luxurious pet products popping up all the time. From designer clothes to memory foam beds to treat-dispensing cameras to pet water fountains, there's a seemingly infinite array of items that serve to make sure your pup gets what they need and more.  
That last item we mentioned, dog water dispensers, are the focus of today's list. A drinking fountain for your dog may seem like a frivolous item at first glance. Still, they're actually quite helpful at ensuring and encouraging quality hydration, which is one of the most critical aspects of your best friend's health. Not only that, but water dispensers make life a little easier for dog owners, too.
In this article, we're going to take a look at what a dog water fountain is, show you some of its major benefits, and then we'll clue you in on some of the top products on the market.
What Is a Dog Water Fountain?
No, they're not exactly like the water fountains you remember from grade school, but they're also not entirely dissimilar. Pet drinking fountains are a constantly running source of clean water for your pup. They're essentially a regular water bowl with a fountain and a filtration system that catches all those bits of dirt and debris, hair strands, and pieces of food that your dog tends to add to their drinking water when they go to hydrate.
Dog water fountains can often hold a few days' worth of water that will stay fresh, cool, and clean, so if you're a particularly busy pet owner, that's one less worry for you. You simply add water when it's empty and let it run. No more stagnant, warm, dirty water for your pup, and no more endlessly refilling their water bowl to make sure they don't go thirsty.
Are Water Fountains Good for Dogs?
If pet owners are totally honest, they're most likely going to admit that they would never want to get their hydration the way a dog with a standard water bowl does. A warm bowl of dirty water sitting on the floor is not appealing to anyone. Even though a dog's digestive system isn't usually as sensitive as a human's, it's still far healthier for them to drink clean filtered water rather than stagnant bowl water with all sorts of debris.
The importance of proper hydration for your pop can't be understated, and a pet water fountain is the best way to ensure that they get the water they need. Without proper hydration, your dog may experience health complications such as kidney disease and urinary tract infections. They can also suffer from diarrhea, loss of appetite, and they can overheat more easily.
You may have a dog who doesn't seem ever to want to drink from their bowl. In some cases, their sensitive noses and taste buds are bothered by the chemicals in tap water. If this is the case with your pooch, you'll most likely find that they suddenly love to lap up as much water as they can once you give them with their very own filtered water dispenser.  
The Benefits of a Dog Water Fountain
We mentioned earlier that a dog's digestive system isn't exactly the same as a human's, which is why they can often tear through a trash can full of food waste and not wind up groaning on the sofa the next day. However, just because they have pretty tough stomachs doesn't mean that drinking from a bowl of stagnant water full of dirt and debris is the best thing for them. 
In fact, their water bowl may actually be full of all kinds of harmful bacteria such as E. coli and salmonella. With the constantly circulating filtration system on a pet water fountain, that bacteria will not be allowed the opportunity to develop.
A stagnant bowl of water will also warm up relatively fast and become far less appealing for your pet to drink from. Think about how much more refreshing a glass of chilled water is than one that's been sitting out on the counter and has become room temperature. 
That warm glass of water is what your pet's water is almost always like if they have a standard bowl! Pet water fountains keep the water at least a few degrees cooler than room temperature, which is actually all your pet needs to deem it more refreshing and, therefore, a lot more drinkable.
Perhaps the most important aspect of a dog water fountain is its ability to encourage better hydration in your pet. Dogs evolved to hydrate themselves through the prey they caught and through natural running water. 
Today, they're most likely getting their nutrients through kibble, which can actually dehydrate them, and a sitting bowl of water, which they're not instinctually inclined to drink from. The clean running water in a pet drinking fountain is a lot more enticing to your dog, which means they're more likely to stay nice and hydrated if they have one.
Last but not least is the benefit that you gain from your dog's water dispenser: it means you have to refill the water bowl a lot less. Even the most dedicated dog lover has had a slip-up at some point and lets their best friend's water dish run dry. It's an awful feeling imagining how thirsty your pup must have been and how helpless they were to get any water for themselves. Well, with a pet water fountain, it's far less likely that you'll have a moment like this again, as they hold far more water than a standard bowl.
What Are the Top 5 Best Dog Water Fountains?
Now that you know just how great they can be for both you and your pet, you're probably wondering what the best dog water fountains on the market are. Well, you're in luck because we've selected our five favorites and collected them all right here. We've included the unique benefits and features of each dog drinking fountain, as well as the price and where you can purchase it.  
They may seem relatively simple, but there's actually quite a bit to know about dog water fountains. We encourage you to do a bit of your own research in learning all the various aspects of these amazing pet products. To make that research a bit easier for you, we've also included a section about the features you may want to look for when choosing the best dog drinking fountain. 
In the end, we're confident that any one of the pet waterer products on this list will be a fantastic selection for your pup, but it definitely doesn't hurt to inform yourself of all the ins and outs of each product.
PetSafe Drinkwell 360 Multi-Pet Stainless Steel Dog Fountain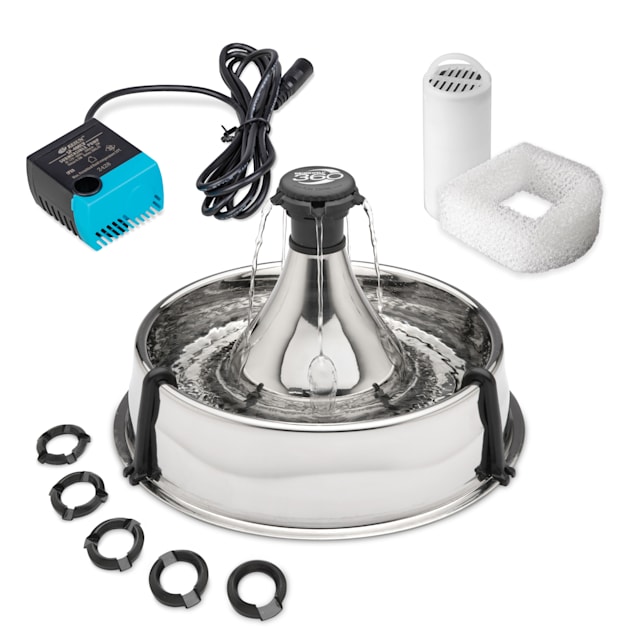 The Benefits and Features
If you're worried about your dog water fountain sticking out like a sore thumb in your home, this product will calm you down. The PetSafe Drinkwell 360 Multi-Pet Stainless Steel Dog Fountain is a great-looking pet water dispenser with a sleek stainless steel design. In fact, it resembles a standard water bowl, only a bit fancier and more enticing to your pet.
It has a whole gallon of water capacity, making it suitable for small dogs and large dogs alike, and with up to five running water streams, it's a terrific choice for multi-pet households. You can also adjust the flow control so that you can strike the perfect balance of water flow for both your chihuahua and your Great Dane.
You no longer have to worry about all that hair, dust, dirt, debris, or bits of food that so often find their way into traditional dog bowls. The replaceable carbon water filter in this dog water fountain will remove all of those unpleasant floaties. The filtration system will also remove all the tastes and odors in the water that might be keeping your pup from staying hydrated.
The stainless steel design makes this dog water fountain a particularly hygienic one. It's also dishwasher safe, so when it does come time to clean it out, you won't have to deal with the hassle of hand washing it in your sink.
Price and Where to Purchase
With a suggested retail price of $99.95, the Petsafe Drinkwell 360 Multi-Pet Stainless Steel Dog Fountain is not the cheapest option on this list, but you can get it for a more reasonable price if you know where to look. It's also important to remember that it can serve as a bowl for up to five pets, so you'll be saving money in that aspect.
If you're shopping online for this product, we recommend using Target's website, where you can get it at a considerably discounted price of $59.99. If you live near a Petco, you can even buy it in-store for $59.95. And if that price is still a little too steep for you, there's also a more affordable BPA-free plastic version that you can get for $32.95 on Amazon.
DOGNESS Pet Fountain Healthy and Hygienic Drinking Fountain
The Benefits and Features
The DOGNESS Pet Fountain Healthy and Hygienic Drinking Fountain has a far more modern look to it than the PetSafe Drinkwell 360, which may appeal to your sensibilities a bit more. It also comes with a number of modern features that can make it an enticing purchase for those who like their products to arrive equipped with all the bells and whistles. Unlike the PetSafe, this dog water fountain is best suited for a single pup, or perhaps two pups if they're both the sharing type.
This water dispenser has a one-liter capacity, and it comes with a water level indicator so you can keep a close eye on how much your pup is drinking, as well as when it's time for a refill. The water capacity is more suited toward medium or small dogs, so owners of large dogs may be inclined to look elsewhere for a pet water fountain.
The Dogness Pet Fountain is an excellent option for pet owners concerned about their carbon footprint. It consumes a minimal amount of energy and is made out of a food-grade ABS environmentally friendly material that is durable, long-lasting, and looks quite nice. The material is also BPA-free, so you don't have to worry about how it may affect your pet's health. Oh, and it's dishwasher safe, too!
Some of those modern features we mentioned include an ultra-quiet pump, so you don't have to worry about the constant sound of trickling water driving you nuts. Plus, an LED light makes observing the water quality and water level a whole lot easier. It also has a three-layer carbon filter system that includes a sponge, an ion exchange resin later to soften the water, and an activated carbon later that removes bad tastes and odors that can bother your pet's sensitive nose and tongue.
Price and Where to Purchase
One of our favorite features of the Dogness Pet Fountain Healthy and Hygienic Drinking Fountain is just how affordable it is. Whether you're looking for it on Amazon or at Target, Walmart, or Petco, it won't cost you more than about $30. It even comes in various color options, all of which will run you the same exact price.
If you're shopping online, we suggest you purchase it from Amazon, where it only costs $24.99. If you're looking for it in-store, you can try your local Petco, where it will also cost you $24.99. And if you're looking for a larger version of the same product to keep your larger pup hydrated, there's a 3.2-liter version on Amazon for $34.99.
PetSafe Drinkwell Multi-Tier Dog and Cat Water Fountain

The Benefits and Features
The PetSafe Drinkwell Multi-Tier Dog and Cat Water Fountain is an affordable and effective way to ensure that all of the pets in your household stay hydrated. It has a two-tiered drinking bowl system that can provide water to both small dogs and large dogs, and its 100-ounce capacity provides enough fresh, clean water to keep the whole pack from going thirsty. That large capacity also means that you won't be refilling their water over and over again.
The carbon filter system on this product works to remove all of the bad tastes and odors that might be keeping your pup from staying hydrated. It also has a foam sponge that can collect all of the random bits of food, strands of hair, and the dirt and debris that find their way into a standard bowl.
One of our favorite features of the PetSafe Drinkwell Multi-Tier Dog and Cat Water Fountain is the open-bowl design that allows your pet to continue drinking even if the fountain is not plugged in. That means, if there were a power outage at your home when you were not there, your pet would still have plenty of water to drink until you could provide them with more.
The multi-tier system also makes this product perfect for senior pets. As dogs begin to age, they can start to slow down, and they will eventually find it difficult to bend down to drink their water. The elevated bowl on the PetSafe Drinkwell makes getting to the water a lot easier for your older pup. 
If you don't have a senior dog, the elevated design can still benefit your pooch. Studies show that elevated dog bowls promote healthier posture in dogs and prevent arthritis and joint pain.
Price and Where to Purchase
This product can be a real steal for anyone with multiple pets. One single product to hydrate your whole furry family at a list price of $39.99 is quite enticing already, but there are a few places you can go both online and in-store to get at a significantly lower price than that.
If you're shopping online for this product, we recommend that you purchase it from either Chewy or Amazon, where it costs just $24.95. If you're looking to buy it in a store, you should be able to find it at your local Petco for just $25.95.
Pioneer Pet Swan Pet Drinking Fountain
The Benefits and Features
If some of the dog drinking fountains you've looked at are a little too big and bulky-looking, then this may be the product for you and your pet. The Pioneer Pet Swan Pet Drinking Fountain has a cool and elegant spout design similar to a faucet on a sink. The dog bowl has an 80-ounce capacity, making it a good option for both single and multi-pet households, particularly if you have small dogs.  
This product uses a charcoal filter, which helps to eliminate bad tastes and odors. The body is made of a dishwasher-safe, BPA-free, lead-free material, so it's both easy to clean and totally safe for your pup to drink from.
If you're worried about the sound of running water coming from your dog water fountain driving you nuts, the Pioneer Pet Swan Pet Drinking Fountain may be the option for you. It has a USB connection pump that provides ultra-quiet water flow that you'll hardly notice.
Pioneer Pet also makes another pet water dispenser that we absolutely love. It's called the Pioneer Pet Raindrop. It has a beautiful stainless steel design that helps prevent bacterial infection, and it has a 96-ounce capacity, reducing your need for refilling your pet's water even further.
Price and Where to Purchase
The Pioneer Pet Swan Pet Drinking Fountain is another very affordable dog water fountain. Despite the beautiful design that makes it look a bit fancier than some of the other selections on this list, it's still attainable for under $30 online. When you consider that it can serve as a water bowl to multiple pets in your household, that's a great bargain.
If you're shopping online for this product, we recommend that you go through either Chewy or Amazon. Both websites are offering it for just $26.24. If you're interested in the Pioneer Pet Raindrop, it is a bit pricier than the Swan, but it also has a higher water capacity and a stainless steel design. You can find it on Chewy for $44.99.
PetSafe Drinkwell Indoor/Outdoor Dog Fountain
The Benefits and Features
If you hadn't already noticed, all dog water fountains previously mentioned in this list are indoor fountains only. If you're interested in a high-quality outdoor fountain that can provide clean, fresh-moving water to your pup after they've spent the day running around the backyard, this product is the one for you.
The PetSafe Drinkwell Indoor/Outdoor Dog Fountain is a large-ounce capacity pet water dispenser that's great for multi-pet households. It's able to hold a whopping 3.5 gallons of clean, fresh water to make sure your pups get the hydration they need. That's three and a half times more water capacity than any other product on this list!
What makes this product an outdoor fountain is its high durability. It's made with high-impact UV-resistant BPA-free plastic, making it a lot more capable of enduring the elements than your typical indoor pet water dispenser. 
However, you should be aware that it's not recommended that you leave or use this product outdoors when temperatures are below 40 degrees Fahrenheit. Of course, at that temperature, you're probably going to want your pups getting their hydration indoors anyway.
With this product, you can rest a little easier knowing that your pets can run freely in the yard and burn all of that excess energy without becoming too dehydrated. 3.5 gallons of fresh, clean, filtered water will always be waiting there for them whenever they become thirsty.
Price and Where to Purchase
Because the PetSafe Drinkwell Indoor/Outdoor Dog Fountain has such a large ounce capacity, it's made with durable outdoor-friendly materials. It does come at a higher price point than many other dog water fountains. However, if you've got a large dog, it makes for a great pet water dispenser that's well worth the cost.
If you're shopping online for this product, we recommend using Chewy or Amazon, where you can purchase it for $79.95. If you're looking for something smaller at a lower price point, you can buy the PetSafe Drinkwell Everflow at your local Petco for $64.95.
Dog Drinking Fountain Features Worth Looking For
Selecting the suitable pet water dispenser for your pup can be a bit overwhelming, but it can be made a lot easier if you know a bit more about what to look for in one. Below are some features that you should keep an eye out for in your search.
Charcoal Filters
Charcoal filters are what you'll find in Brita filtration systems used by humans, and they're often used in dog water fountains, too. They're designed to remove chemicals like chlorine and particles, volatile organic compounds, and unpleasant tastes and smells from water. They eventually wear out, but you can find replacement filters for pretty cheap.
Foam Filters
These sponge filters are what catch all the floating debris in your dog's water and keep it nice and fresh for them. If you want to keep your pup's water free from hair, dirt, dust, and bits of food, you're going to want a dog water fountain that uses them.
BPA-Free Plastic
If you're looking to purchase a plastic dog water fountain, you should be absolutely certain that the plastic is free of the chemical known as bisphenol A, or BPA. Studies have connected BPA to a number of different health issues, including high blood pressure, cardiovascular disease, and type 2 diabetes.
High Water Capacity
It's important to choose a dog water fountain that you won't have to refill continuously. Most pet water dispensers have a fairly high water capacity, but the amount of water you're going to need yours to hold is dependent heavily on the size of your pet, as well as the number of pets the dog water fountain can serve. As a general rule, your pup needs about one ounce of water per pound of bodyweight every day. Consider that when choosing the capacity of your water dispenser.
Summary
Those are our five favorite dog water fountains that you can find online or in stores. We think you'll find that although this product may seem rather luxurious for a pup who probably gets reprimanded for drinking straight out of the toilet on occasion, they're not overly expensive. All of the benefits they offer make them a steal.
When making your selection, you should go with the dog water dispenser that you think best fits all of you and your pet's particular needs. You know your dog better than anyone else, and you also know your budget better than anyone, too. We hope you found this list helpful, and we wish you luck in finding the perfect pet water fountain for you and your pup!